Dolci cù burro senza ova
Butter cookies of Nonna Claudia
Today Nonna Claudia wants to delight you with crumbly and light butter cookies which, in addition to melting in the mouth, are also simple to prepare thanks to the practical and fast recipe, in fact they are egg-free and there is no need to roll the pastry nor is there any need. of molds, as in many other cookie recipes that you can find on my blog.
Nonna Claudia's butter cookies, you can find them in three different versions: with chocolate, with hard-boiled eggs (such as canestrelli), or simply medallions that I made for the Jeak Sparrow theme party, for my granddaughter's birthday . The butter biscuits with yellow chocolate are born to do something different to celebrate Women's Day with my granddaughters but they can be made with dark chocolate or any color you want.
These cookies are ideal for breakfast, tea with friends, a buffet for baptisms and communions, or simply whenever you feel like it.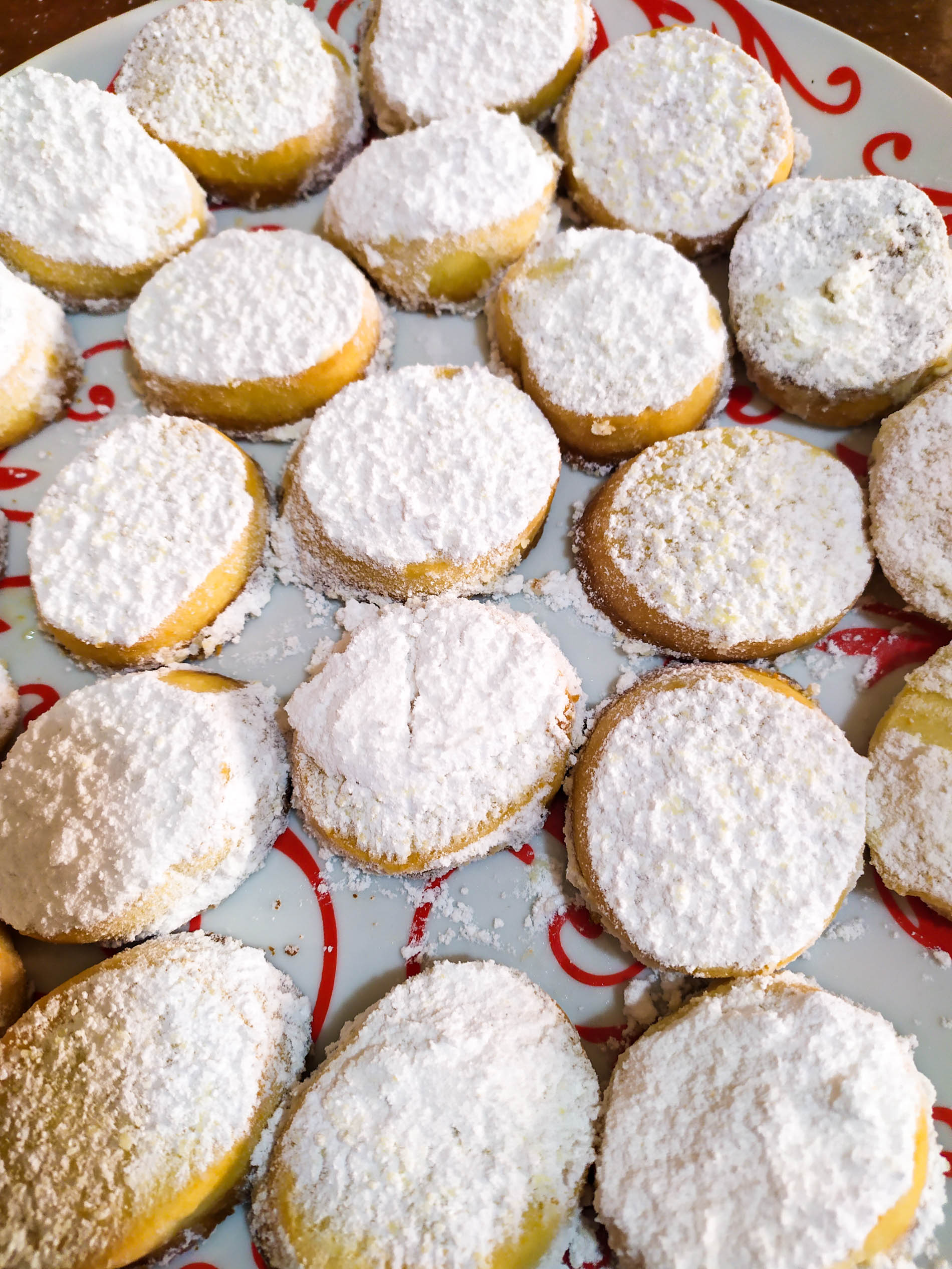 Cut the butter just removed from the refrigerator into small pieces, put it in the planetary mixer, add half of the icing sugar and whisk it at medium speed for 5 minutes.
Add the flour, the potato starch and mix for another 5 minutes
Remove the dough from the planetary mixer, place it on a lightly floured pastry board, compact it well and cut it into three equal pieces
Roll out the pieces of pastry and form sticks, smooth and uniform with a circumference of 8 centimeters
Wrap the sticks with baking paper one by one, place them on a tray and put them in the freezer for about 60 minutes
Take the shortcrust sticks from the freezer, cut them into 2 cm high slices and place them in the pizza pans or in the oven drip pan, already lined with parchment paper, taking care to space them at least 2 cm on each side
Put the trays with the washers in the refrigerator, let them rest for 30 minutes, in the meantime turn on the static oven at 160°C (320°F)
Bake halfway through the oven, one pan at a time, cook 10 minutes or until lightly browned underneath
As soon as the shortbreads are taken out of the oven, with your thumb, press the center of each biscuit, in this way a dimple will be formed which must then be filled with chocolate
When you have finished cooking and making the dimples sprinkle them with icing sugar
In a saucepan, melt the dark chocolate in a bain-marie, add the dye, mix well, when it begins to solidify, pour it into a pastry bag
Now fill all the biscuits with the pastry bag and when the chocolate has completely solidified the cookies are ready to eat
If you don't have a planetary mixer you can knead them by hand but with butter at room temperature.
As an alternative to chocolate, you can sprinkle them only with icing sugar
These butter cookies can be stored in airtight containers at room temperature for up to a week.
Oven
Pastry board
2 trays for pizzas
Knife
Planetary
Tray
Sprinkle sugar or sieve
Fridge
Planetary
Greaseproof paper
Cooker
Saucepan
Bowl